Ester Boserup Prize 2023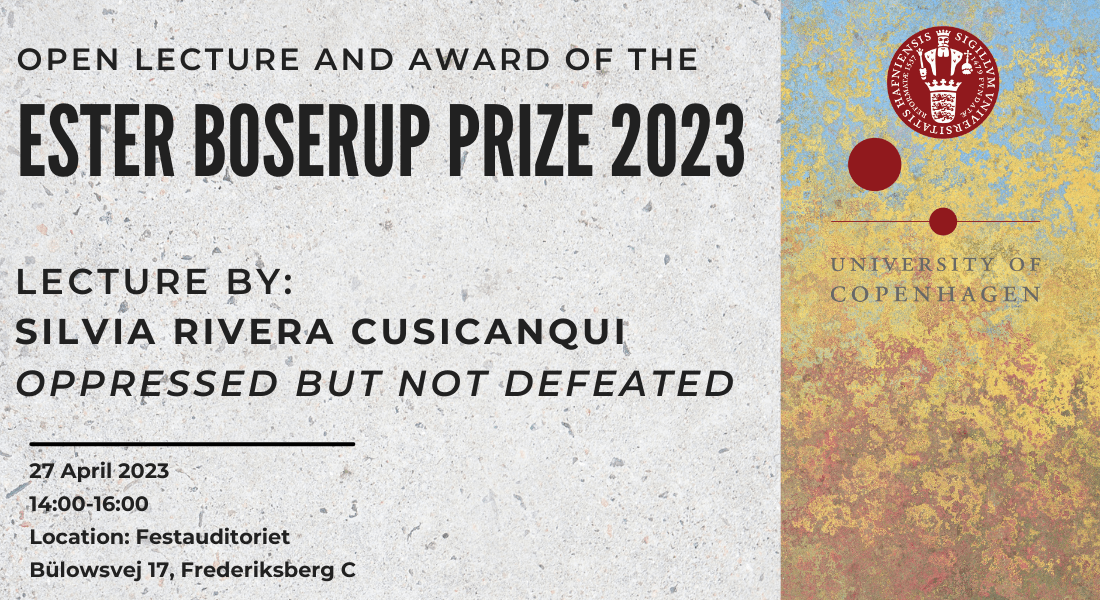 The Ester Boserup Prize for Research on Development 2023 will be awarded to Professor Emeritus Silvia Rivera Cusicanqui, Universidad Mayor de San Andrés.
Silvia Rivera will give an open lecture titled: "Oppressed but not Defeated".
The event is open to all. You do not have to register.
Festauditoriet, Bülowsvej 17, Frederiksberg C. 14:00-16:00, April 27, 2023.
Silvia Rivera Cusicanqui is a Latin American sociologist and historian whose work includes critiques of Western epistemologies, colonialism, imperialism, and the use of the term 'decolonial.'
Rivera Cusicanqui is the author of several important works including Oppressed but Not Defeated: Peasant Struggles Among the Aymara and Quechua in Bolicia, 1900-1980 (1984); Borders of Coca: Colonial Epistemologies and Alternative Circuits of the Coca Leaf (2003); and Ch'xinakax Utxiwa: A Reflection on the Practices and Discourses of Decolonization (2020). In addition to Rivera Cusicanqui's scholarly work, she is an activist in the cocoa grower's movement and the Katarista movement, seeking to recover the political identity of the Aymara people in Bolivia.